As a new team at the Finkstonball Softball Tournament, we are happy to introduce: The St. Pölten Pee Wees!
The  Pee Wees are one of only four clubs to ever win the Austrian Softball Championship. Now, the team is looking to rebuild. We are very happy to have the girls from St. Pölten at FB XXI.
What was your motivation to sign up for FB XXI:
We want to play some games and have fun at a nice tournament. Finkstonball Tournament is a great opportunity for our young team and we are looking forward to see some high level softball.
The Pee Wees are re-building and looking for opportunities to play. What will your team's goals be for FB XXI?
Our goal will manly be to show a good performance, work hard as a team and play as a team.  Thats it!
The St. Pölten Pee Wees with their iconic logo: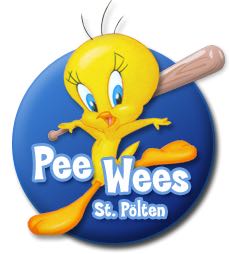 Is there anything in particular you look forward to in Attnang-Puchheim?
We are the first time there, but we heard many good things 🙂

We hope our girls will enjoy their weekend and everybody is looking forward to Finkstonball!